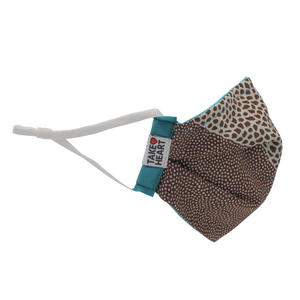 'The Dreamer' Reversible Victory Mask w/ Filter in Blue
Sale price Price $23.00 Regular price
The Australian Aboriginal people convey important cultural stories through symbols and artwork from as far back as 80,000 years ago. This striking brown and white style features Aboriginal art by Jean Nampajinpa Hudson. 
Subtle accents of blue run across the front of the mask over blocks of textured organic patterns. Paired with blue on the reverse side, this mask is incredibly versatile pairing great with your style from one day to the next.
What makes the 'Victory Mask' style truly unique?  The incredible fit.  We cut this style on the bias which allows the fabric to shape to the contours of your face. Our customers are thrilled when they put it on and declare, "It feels so good!"
Take Heart Masks are reversible, washable and reusable so eco-friendly.  They are made of lightweight breathable cotton, and include an all-important layer of spunbond polypropylene filtration. They also feature soft adjustable nylon straps and a flexible metal nose strip to hug your nose and cheeks. 
All of our masks are proudly made in the heart of Austin, TX USA.  Help others embrace change and do it in style by wearing a Take Heart Mask!
*Take Heart Masks are not intended to be used as a surgical mask, for liquid barrier protection, or in a clinical setting.*